Here is your free training video:
"The Four Most Common Mistakes When Trying to Influence Others."
I hope you get value from it and welcome your comments below.
[fb_comments title="Leave your comments below:"]
Rob's New Book, "How To Change Minds"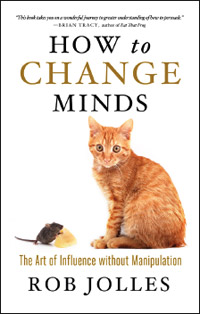 We all know people who need to make a change.  Often, they know what they need to do, you know what they need to do, and you tell them what the ramifications are if they don't do it; still, nothing happens. Rob Jolles knows this scenario all too well—as a salesman, father, friend, and colleague, he's seen it repeatedly in business and in life.
In this book, Rob draws on his highly successful sales background to lay out a simple, repeatable, measurable process for changing someone's mind.  This is not done by telling people what you think they should do.  However well-intentioned, the fact is people fear change, and resist being pushed, even in the right direction.  Instead, you will be introduced to a repeatable, predictable and measurable process to skillfully lead others to discover for themselves the long-term impact of not changing helping others to fully embrace the changes they need to make.
The book is filled with sometimes funny, sometimes moving stories illustrating how challenging changing minds can be and the frequent gray line between influence and manipulation. Following Rob Jolles's wise advice will ensure that changing someone's mind is never an act of coercion but rather one of caring and compassion.
You'll learn:
The ethics involved in influence
The decision cycle that people go through when contemplating change
How to establish trust
How to create urgency
How to begin a conversation
How to commit someone to change
How to handle objections to change
How to strategically prepare for any conversation that requires change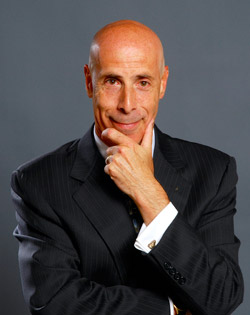 A sought-after speaker and best-selling author, Rob Jolles teaches, entertains, and inspires audiences worldwide.
Rob draws on more than thirty years of experience to teach people how to change minds. His keynotes and workshops on influence and persuasion are in global demand, including companies in North America, Europe, Africa, and the Far East. And, most importantly, his work inspires individuals and organizations to create real, lasting change by not just teaching clients how, but why.
Today, Rob's programs attract diverse audiences, from Global 100 companies to growing entrepreneurial enterprises, from parents to professional negotiators. His best-selling books, including Customer Centered Selling, Mental Agility®, and How to Run Seminars & Workshops have been translated into more than a dozen languages.
He lives in Great Falls, Virginia.
Order your copy now at Amazon >>
If you wish to order multiple copies for your company, please contact me directly here.