What do the best business leaders, athletes, musicians, and actors ALL have in common?
They all have coaches. Now, YOU can work one-on-one with Rob Jolles and have one too!
Certified executive coach and member of the Professional Business Coaching Association, Rob Jolles can help you discover what's truly possible with…
Your Business
Those in leadership roles often need a thinking partner for support and guidance when dealing with complex business and people issues.  One-on-one coaching is the most powerful and effective way to accelerate your development and unleash your hidden potential. You'll have an opportunity to work on topics like:
How to earn the trust and respect of those around you
How to structure and run effective meetings
How to assess and address time management issues
How to navigate through new leadership roles and responsibilities
How to assess and develop key process behaviors allowing you to address over two dozen critical leadership key actions
Your Selling
Whether you're a novice, or a grizzled vet, you'll work one-on-one to assess your strengths and weaknesses, and develop repeatable, predictable processes that improve performance. You'll have an opportunity to work on topics like:
How to determine where your client is in his or her Decision Cycle
How to establish trust in any relationship
How to create urgency and move clients to action
How to transition to a business conversation
How to handle client objections
How to intelligently get referrals
How to sell in a group environment
How to incorporate trial closes throughout the selling process and take the mystery out of closing
Most importantly, you'll develop and prioritize measurable tasks to address agreed upon strategies that allow you to implement an action plan that achieves results!
You can continue to try and tackle these business challenges alone or you can take action and get some help… today. Together we can create a partnership based on trust and mutual responsibility and an atmosphere that encourages experimentation, risk-taking, growth, and accountability.
It all starts with a conversation. Rob offers a complimentary 30-minute consultation, in person or by phone.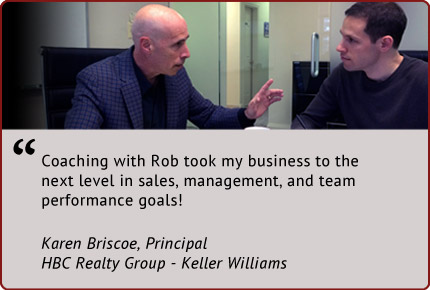 Your Presentations
Here's your chance to work with a 30-year speaking veteran and electrify your presentations or your professional speaking business. Within your presentations, you'll have an opportunity to work on topics like:
How to professionally open and close any presentation
How to sell within your presentations
How to work with multiple audience personality types
How to build interest throughout your presentations
How to create professional participant guides
Thinking about starting your own speaking business or taking your speaking business to the next level? You'll have an opportunity work on topics like:
How to create any presentation from keynotes to multi-day workshops
How to build a professional speaking business
How to work with speakers bureaus
How to create professional participant materials
Request your free, no-obligation exploratory meeting below