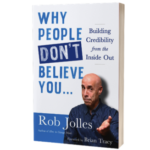 My books are like my children; I love every one of them.  But Why People Don't Believe You… is personal. This book is about finding the necessary magic to help others believe you. It has the ability to help not just those who struggle with this issue or those who have lost hope, but also so many more of you who are one or two setbacks away from losing your confidence as well.
Oh my, how we love our words… but words won't save you. We learn to write them letter by letter, then form them sentence by sentence, then assemble them paragraph by paragraph, and continue page by page. At one moment, we can make people laugh at them and, at another moment, make people cry at them. We have been raised to believe that words are one of the most essential tools an individual can use to communicate.
We've been duped. If words are so important, why are so many of us literally afraid to send a text or an email because we are nervous that our words will be misinterpreted? Could it be because our words alone offer little in the way of help when it comes to conveying the true emotional content of what we are trying to say? I am not suggesting that words don't have their place, but I contend that their place is overrated — way overrated.
The fact is, a huge percentage of the population struggles with an issue that has very little to do with the words we use: the simple act of being believed. We can find ways to mask this problem, but it haunts us just the same. We take jobs that don't require face time with clients, but we can't avoid interacting with members of our team. We avoid social situations that make us uncomfortable, but certain get-togethers cannot be avoided.
Given time, we become masters at shielding our lack of confidence. The better we are at hiding, the bigger the problem becomes, and the bigger the problem becomes, the more insulated we are from changing our behaviors. Eventually, we get backed into a corner. Although desperate to get others to believe us, we are out of practice and out of confidence, and we instinctively fall back on our words to save us. When those words fail and, given this all-too-common scenario, they almost always do, we retreat even deeper into doubt.
It's not the words that betray us; it's the way the words are used.
I call that the "tune." Listening to words is like watching a magician work his or her magic. The magician wants your attention to be in a certain place and will go to great lengths to keep your attention on a prop—but that distraction is to keep you from looking at what the other hand is doing. Words are where your attention may be, but the tune is where the magic happens.
Through a series of process behaviors including the pitch of our voice, the pace of our words, the pauses we deploy, improvisational skills, acting techniques, and so much more, I'm here to tell you that anyone can learn the tune.  Are you ready to bring your words to life so people WILL believe you?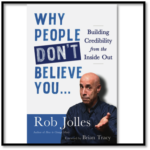 Release The Hounds!
Join me and become part of my launch team to help bring this important book to light. It is now available at bookstores, and available at Amazon in paperback, E-Book, audio book, and CD versions.  Once you get your copy, read it and then, tweet, post, blog, tell your friends, and if you feel so inclined, post a review on Amazon.  Those reviews matter!
Facebook Comments
comments
Google+ Comments