Think Like A Juggler!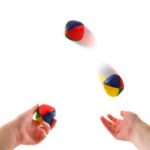 You may not know this about me but once upon a time, I was a pretty darn good juggler. I could juggle in a weave, in a circle, off the floor, off the wall, around my back (a crowd favorite,) off my knees, and off my head. As my pièce de résistance, I brought an apple into my juggling performance and I ate it while I juggled. I became quite a proficient juggler, although one of my biggest challenges was learning how to best put together my many tricks to produce the most compelling show I could perform.
Through trial and error, I shifted my tricks around as I tried to create the perfect act. I tried coming out explosively, leading with my best trick, but I found I had trouble holding my audience. What's more, once I performed my best trick, the rest of the performance slid downhill. Then I tried holding my best trick for the end, but I found I had trouble getting the attention of my audience, let alone effectively building momentum towards the end of the performance.
I finally settled on a formula that worked for me. I took my second favorite move (an around the back crowd favorite,) and opened the show with it. This allowed me to grab the attention of my audience, and yet I still held something back for later. Of course, I sprinkled in a number of other moves throughout to maintain the attention of my audience. Then, at the end, I brought out the big guns, the pièce de résistance, the apple! Okay, I was just a juggler, but the crowd went nuts over that apple. By golly, I had a formula of performance that worked.
Now, let's shift to you, and your presentation. How are you organizing your material? You have tricks too. You may have compelling stories, creative exercises, analogies, metaphors, dramatic visual aids, and more. This formula applies here, and requires you to ask yourself the same two key questions:
"What's my second best trick?" Open your presentation with it.
"What's my best trick?" Close your presentation with it.
When you start a presentation with strength, and you finish a presentation with even more strength, a lot can be forgiven in between. This doesn't mean the body of a presentation should be ignored, but it does remind us how critical the strategic placement of key presentation components really is. This simple formula will help you to do just that.
Facebook Comments
comments
Google+ Comments