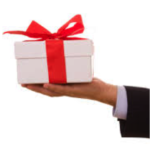 I was raised by a Lion.  No, not a real lion, but a true, card-carrying proud member of the Lions Club International.  My father, Lee Jolles, served faithfully for over 50 years, and I was able to witness what it meant to be someone who really gives of himself.
One of the first things you'll learn about those who give selflessly is that they don't talk about it a lot.  This is no coincidence: Those who give aren't looking to boast of their good deeds. They aren't looking for anything in return, and I mean anything.  They quietly toil away at their given tasks with only one goal in mind: to assist those who count on them the most.
I grew up occasionally helping to collect extra eyeglasses for the visually impaired, working in concessions at the Annual Georgetown Lions Club Horse Show, and helping out from time to time by delivering crabs at their annual Crab Feast.There was no patting ourselves on the back, or bragging to others about I did.  I just did it because that's what my Dad asked me to do, and quite honestly, I thought that's what everyone did.
As I grew older, my parents moved to Florida, and of course, my Dad found a Lions Club in Sarasota to work with.  At 80 years old, he was up at dawn taking leftover food from the supermarkets to the needy, and working at a consignment shop run by the local Lions Club.  He was known by all as the larger than life Lion who would reach into his own pocket to buy a toy for every child who came in. This act of kindness occurred at least once a day every day he worked there.
As for me, once I grew up and left the house, I married and started a family of my own. I convinced myself that I had too much on my plate, and no time for charities. As I was building my business from scratch, I was watching my pennies, and I just didn't feel I was in a position to donate my hard-earned money.  Once I began to generate more income, I occasionally made a small donation here or there, but I still felt something was missing.  I finally confided in my Dad about my inability to donate any significant sums of money, and how I felt I wasn't giving back in a meaningful way. With a smile, he gave me a piece of advice that forever changed my personal trajectory of giving.  He told me quite simply:
"When you give, you don't give with just your checkbook; you give with your time."
With one sentence, my Dad, the Lion, opened up a new world to me.  It's a world that's open to all, and a world that's eager to accept whatever you can give. Sometimes that gift can be as seemingly insignificant as a smile, or a conversation that provides hope.
If you are looking for something instant and tangible in return, you won't find it.  But if you aren't looking for something in return, and your intentions are true, you'll find one, amazing reward greater than anything money can buy. You'll find the wonderful feeling that you're making a difference… and you'll find a purpose.
Facebook Comments
comments
Google+ Comments