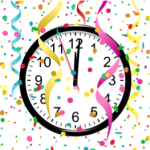 I'm a New Year's Eve man.  No doubt about it, and I'm not ashamed to admit it.  What can you say about New Years Eve that isn't positive?  Christmas is a wonderful holiday, but not everyone celebrates Christmas.  The same could be said for Kwanzaa, Bodhi Day, Hanukah, Festivus, and many more.  All wonderful days for those who celebrate… but not holidays for everyone.
Then there's New Years Eve.  I've always called it, "The Can't Miss Holiday."  That's because there are only two scenarios that can present themselves on this holiday:
Scenario #1.The present year has not been a good year.  Perhaps the year has been difficult professionally, or personally.  The New Year symbolically signals it's over; it's behind you; it's done.  Remember 2009?  I don't remember a whole lot of businesses that were flourishing.  I, for one, could not wait to have that long, long year to come to an end.  Eventually it did.  Somehow, moving to another year presented a clean start.  It provided a psychological boost.
Scenario #2. The present year has been a good year. Perhaps the year has been a successful year professionally, or personally.  The New Year may symbolically signal it's over, but why would that be disappointing?  Most people I know who are coming off a strong year can't wait to get at the next one!
Want to make some New Year's resolutions?  Good for you, and even better if you set goals you have a realistic opportunity to meet. How you celebrate New Years Eve is up to you.  Drink, think, dine, wine, or sleep the night away; it's irrelevant to me.  My wish for you is this: Regardless of the year you are wrapping up, learn from it.  Was it a great year?  Ask yourself why, and commit yourself to not just repeating it, but improving upon it. Was it a difficult year?  Ask yourself why, and commit yourself to problem solving your way to a solution that makes sense.
For some, it's just another day on the calendar, but for people like me, it's far more.  It's a clean slate for a new year; a year full of possibilities.  It's a chance to reflect on what's worked and what hasn't.  It's inclusive and it provides an important moment for us all to simply stop and think.  Enjoy the opportunity to make 2019 your best year yet!  Happy New Year!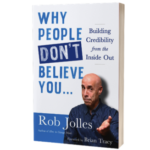 Don't forget to get your copy ofWhy People Don't Believe You.  It is now available at bookstores, and available at Amazon in paperback, E-Book, audio book, and CD versions.  What a great way to start the year!
Facebook Comments
comments
Google+ Comments